Group holidays, it's the new way of hanging with your old or new friends and gaining some R&R at the same time, perfect for all, combine families, couples, singles and a few waifs and strays! But does the idea of a group holiday fill you with terror or excitement? 
After recently returning from a 'groliday', not as 20-year-old girlies off to Marbs, or lads on tour to Prague, but families off to sunnier climes, that's right grown-ups (erm, well that's debatable after our Jolly Grolli) adults, teen kids, younger kidettes and couples kid free…17 in total, I can now pronounce that I am a converted grolidayer!
See, we've done this group camping shenanigan's before, locally, with around 10 families, which has always been great, but absolutely exhausting, add into the fact, I have super bad hay fever and an allergic reaction to anything that looks like a tent, let alone the washing facilities (OCD over drive). This was different, all the best bits of camping (staying up late, fire pits, outside living, BBQs and drinkies) but with a warm cosy bedroom to sleep in and a kitchen to cook in plus hot showers!
When the opportunity arose, with a message from my soul sister saying, 'a friend has a contact of someone, who knew about this big house in France, up for rental…' my initial reaction was this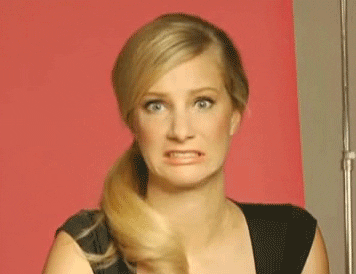 Then after viewing the photo's of the property, checking out the flight costs, I changed to this
Next minute a whole bunch of old mates, were arranging the dates and working out whether to drive or fly (no brainer for us, it's an hour flight for £100 or 14 hours of gruelling driving in  close confines of a car) #arewenearlythereyet?
Our wonderful 'groliday' consisted of friends that I went to school with, spent my teens with, travelled with, got married with, were there during pregnancies, babies, house buying, moving, watching the kids get older, were bought together to reminisce, hang out and chill out.  
If you are considering this new form of grolidaying, here are the 'ME' top tips:
Planning – find out what's available in your accommodation, and what isn't, who has what bedroom and who has any specific requests. What's in the local area, including supermarket, bars, restaurants, things to do with kids and fun stuff plus costs. Oh, and set up a WhatsApp group, for entertaining, sharing moments, plus the practical stuff.

Decide to spilt the shopping bills (or not) we were families and split 5 ways, making it super cheap, even if you do buy mucho bira, tres vino, poli prosecco and some cheeky spirits!

You may be on a groliday, but as grown adults you can explore or venture out on your own, guilt free. Be sure everyone knows this.

Try splitting into mini groups, some may want to lie in and others may want to be at the beach by 9am

Get some 'ME' time, respect others for their need to read a book by the pool, or go to their room to have some 'lone time'. Grolidays can be tiring if you are socialising 24/7

Draw on the skills within the group, if some love cooking, let them cook, some like clearing up, let them clear up, involve the children in jobs too, it's important that everyone mucks in.

Go with the flow some days, rather than a military planned operation of trips out, planned meals and other activities, sometimes you wake up and think 'Nah, I'm chilling today' but remember to communicate to the group, or they could be waiting for you!

Dining for 17 + not the easiest, pre-booking is a must, not much scope for 'play it by ear restaurant finding game' especially not with hungry, hot big and little people.

Cohesive group parenting – best way to keep the kids in line, just be careful that there isn't someone in your group who has opposite parenting styles to the rest of the group #awkward #noearlybedtimeongrolidays

Enjoy every minute, these are special times to be cherished and embraced. Then pop all your shared photos onto a drop box account, to remember the good times.
The only thing I would do differently would be a. pay for a cleaner b. find a caterer so everyone can have a night off for that special evening.
Having said all that, I nearly choked on my Plat du jour when we added up how much we didn't spend…blimey! It would be rude to say how much, but, we're going again 😊
Now it's all about ME news time. 
Preloved 
Still going from strength to strength...I am amazed as to the range and quality that I am able to share with you, what a treat!
Exciting news  * More Preloved Events are coming your way*
New Venue
The White Lion, Linkfiled Street, Redhill @WhitelionRH1 
Every last Wednesday of the month, starting 27th September from 7.30pm
The venue is so cute, quirky and of course, has its own scrummy range of gins, wines and all things alcoholic! Plenty of parking and lots of atmosphere.
The Old Oak
6th September Wednesday 7.30pm onwards
Gin and a shop 
NEW
Book a Preloved party and shop in the comfort of your own home with friends - get a  FREE bottle of Prosecco for the host!
Colours and style
Now taking bookings for one to one's and parties, plus talks to groups about how to wear colour for confidence and knowing your style
Kettlewell colours new Autumn range is available for all you colourlovinladies remember I can get 5% discount and even order for you, if you wish. Please mention my name as your colour stylist as the more votes I get the more of a chance I get to be one of their preferred colour agents  
Shopping buddy
Need a new, new outfit or want to check out the new season or current sales but would prefer a shopping BFF, then I'm your girl, just go to www.nowitsallaboutme.co.uk for details and how to book. All services include a half hour telephone call, to talk through your needs, to max out on shopping time.
De-cluttering
Help is always at hand when it comes to a de-clutter, need that advice, want storage solutions, require assistance with bulging drawers and over flowing wardrobes? It's more than just a big tidy up, it's empowering and liberating, plus you can sell items at one of my preloved events!
Big love
Clare
xxx
​
Please reload