Set the scene: a lovely country pub, quintessentially English, at lunchtime, log fire roaring, Christmas decorations enhancing the charming character of the olde-worlde Inn (no plastic XMAS tat here), the perfect combination for a girlie catch up for a BFF's birthday, sharing laughter and nostalgia. Talk then turned rather embryonically from 'How's your Christmas shaping up?' to the subject of 'Mother in law's' or MILS (with no 'F' in sight), stories of woe and the combined fear that one day, maybe, we may turn into a 'MILZILLA' too!
Two-thirds of the table agreed that their MILS were an utter 'Mare' and branded all MILS as nuts, asking if it was ever possible to get on with one, whilst reciting a series of hilarious anecdotes about their MILs and some rather unpleasant and almost cruel tales of the horrors and verbal torture they'd endured over the years. One MIL hater's theory was that all MILs are designed to be 'awkward' and that it is their role in life to make their daughter-in-law's (DIL's) life a miserable one, especially at Christmas.
My BFF dating back to school times and I disagreed, and both confessed to having glowing relationships with our MILs (OK, mine's slightly bonkers but that just adds to her unique character) and my BFF even accredited her ex-MIL as lovely as her current MIL, which is a big credit to my BFF for making it work
But the question was who was right and who was wrong? One camp thought it was impossible, due to their experiences, to get on with any MIL and our camp thought it was right to build a relationship with the mother of your husband/partner.
This then got me thinking, which as you know is dangerous for me, about how disagreements, conflict and camps form and how if I believe I am right then that automatically defaults to the 'other' side being wrong. I am right, therefore you are wrong. Does this sound familiar? We've all been there. In fact, my other half even has a Mug with 'ALWAYS RIGHT never wrong' typed on it…and he so isn't.
Surely it's not right or wrong, it's simply being misunderstood.
If you seeing both sides of the coin, the 'I'm right and you are wrong;' changes to 'I may not be right' and 'you may not be wrong', or vice-versa. It certainly loses its intensity and power but it is very difficult if only one person is looking at both the sides of the coin, kind of needs both camps to look at both sides to see and then reflect on the 'misunderstanding' that has caused the situation – goodness me Jeremy Kyle makes his living from a whole series of epic conflicts and if the theory of 'it's only a misunderstanding' was part of everyone's viewpoint, then JK would be off air in a heartbeat – not such a bad thing!     
So, Les Dawson may be turning in his grave with the mere thought of MILs and DILs and SILs getting along, with any potential issues branded just a mere 'misunderstanding' of each other's opinions. It would also kill off any joke that he had written on the subject, changing to a politically correct and sympathetic perspective about one's MIL – a Mother in Life.
Here are my top tips for coping with potential MIL irritations:
Prepare to realise that there could be a misunderstanding and a communication breakdown

Prepare to – drum roll and queue music – 'Let it go'

Prepare to adopt the idiom 'drop it like a hot potato' rather than 'like a dog with a bone' – choose the potato over the bone

Prepare to meditate and create some MIL mindfulness

Prepare to breathe and count from 1-10 and visualise your 'happy place' if all else fails! 
I do appreciate that for some Christmas  can be a very stressful time of year. It doesn't follow the idyllic vision of the 'Last Christmas' video, with friends gathering in a snow-filled far away land full of festive fun, laughter, dinner parties and snow angels. Nor is it a stereotypical EastEnders Christmas when someone always dies, the pub burns down, divorce and affairs abound until the timely 'doof doof doof-doof doof doof' drums call an end to proceedings!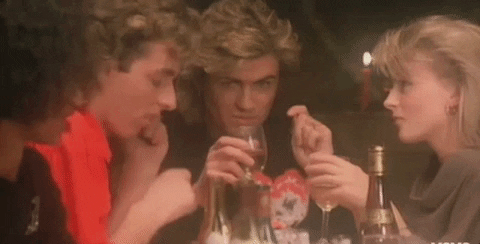 Both examples are unrealistic (btw please make 'Last Christmas' number 1 this year), so make Christmas your own, make your own traditions, your own fun, your own decisions and make MILs, misunderstood or not, a Merry part of your Christmas.
This afternoon I asked my family what their favourite part of Christmas Day is. Nobody said presents or perfectly cooked pigs-in-blankets, theirs was something completely different compared to what we 'adults' stress over. So, let's chill with the MILs, SILs and DILs and enjoy time together.
For those of you who don't know (have you been living under a rock?) my wonderful and very humbled position as an Ambassador for Psychologies magazine will unfold in 2018, here is a link to a great guide to 5 ways of having a stress-free Christmas
https://www.psychologies.co.uk/5-ways-stress-free-christmas
Now its all about ME will be having some ME time between Christmas and New Year, hanging out in my PJ's and binge-watching Christmas movies like Elf, Muppets' Christmas Carol and Love Actually.
I will resume in the New Year, so until then I wish you all a very Merry Christmas and may all your dreams may come true
Lots of happiness
Clare
xxx
Please reload