For the love of Shirley Valentine. A film that  showed the ultimate 40 plusser with loss of identity, feeling invisible and slowly dying inside. Remember it?
Shirley Valentine was a global success and struck a raw and sensitive chord with women, bored out of their minds and ready for a revolution, all around the world. Shirley became the ambassador for 40 plussers and a leader of women
The film stands the test of time and shows what we now know, the fundamental principles of self-care and coaching. She placed 'ME' on the map and showed millions that it was OK to find yourself again, to be happy.
Shirley finds love, but not with the randy Greek Taverna owner Kostas (played brilliantly by Tom Conte) but she found love with her self. With life.
A portrayal that women everywhere could identify with and in that moment Shirley Valentine became the Icon for women, for change, for adventure and for themselves. A powerful and witty performance by Pauline Collins, an 'Ab Fab' cameo by Joanna Lumley with a sense of hilarity, painful self-truths and heart-breaking realities.
SHIRLEY YOU ARE NOT INVISIBLE OR DEAD
I wonder and hope my blog reading 40 plussers have seen the film, if not download now and  pour yourself a gin, break out the popcorn and let's  watch it and ask yourself
How does that make me feel now?

What resonates with me now?

Why do we get into habits and not realise these habits are no longer working?

What does adventure mean now?

If you could have a long Greek lunch with Shirley what 3 things would you ask her?
I lived in Greece shortly after the 'Shirley Phenomena', If I had a Euro (or Drachma as it was back then) for every time someone called me 'Shirley Valentine' or asked, 'are you doing a Shirley'? I would have had enough money to buy my dream villa (Maniot stone, 3 bedroomed, panoramic balconies with sea views, small plunge pool and full of gorgeous things)
It's still on my bucket list....
At the time I was in my 20's, a holiday rep, living and working in Greece, living the dream, free as a bird and oh so happy, so not much in common with Shirley apart from we were both women! It did make me chuckle at first, then it became slightly irritating after a few years!! The essence of the film was that she fell in love with herself, not with her 'Fisherman Boat' friend and in turn could embrace a new Shirley with her 'lost and regretful' husband. Oh, the joy when in that moment he walks past his own wife as he simply doesn't recognise this glowing, crazily contented tanned up Shirley. Ahhhhh
So now fast forward a few decades. I will set the picture. A group of my 40 plusser girlfriends, huddled together on a cold and rainy Saturday afternoon in a huge house by the sea that we'd rented for our annual escape. I'd brought with me a couple of DVD's and we chose to watch SV. We laughed, we cried, we even remembered some of the lines-for Shirley's sake!!
'I fed it the dog'
'I'm on the F plan diet'
'You want come boat?'
'Oh darling, I'm a hooker, a whore'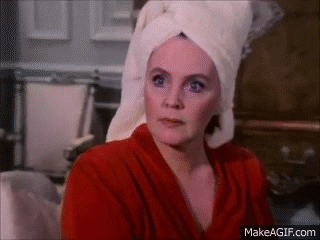 However, the film raised some feelings and concerns that completely took us by surprise
We were now, in fact ALL older than Shirley Valentine

We remembered watching the film in the 80's thinking 'nah, that's not going to be my life'...errmmm?

A moment when, although we had not succumbed to 'steak and chips on a Tuesday' we had all got a bit lost and wrapped up in this crazy ride called life  
Were we the new aged, gin drinking Shirley's of our day?
Fast forward a further few years and I say NO. However, because of my own journey of self discovery through life coaching, I can say that confidently now. The powerful questions and the realisations that Shirley was experiencing was like watching a masterclass of self coaching, with the added benefit of a Greek landscape and sunsets. Life coaching addresses many parts in life -the balance – the harmony- the YOU
How many of us can truly say that we know who we are now, what we stand for and if our needs are being met or not? We probably don't ask because we don't want to hear the answer perhaps?
'I'M NOT INVISIBLE OR DEAD I AM A 40 PLUSSER' IS FOR YOU SHIRLEY VALENTINE
Based on my love for Shirley, I will be launching a new FB group especially for YOU. A safe place, a supportive sisterhood and a chance to ask questions like:
Is Gin the answer?

Why are bits drying up and moving?

Why do I feel like this?

How do I NOT feel like this?

Does my bum look big in this?
A blend of 40 plusser real issues for real women. A caring community based on reaching 40 and beyond, mutual respect, keeping a sense of humour, recommendations, picture posting and feeling fabulous.
I will post life coaching questions
Affirmations
Articles
Blogs and guest blogs
A place to just BE…ME
I am super giddy about a mini relaunch after listening to your needs, re evaluating and changing things up a little
Now it's all about ME is creating the space in your life - check out my NEWLOOK website
Creating the SPACE for your thoughts, emotions and self-awareness

Creating the SPACE and TIME to work out who you are now

Creating SPACE in your wardrobe for the NEW YOU. Styling for YOU and your lifestyle NOW

Creating NEW from the OLD

Creating COLOURFUL outfits and CONFIDENCE

Creating a NOW life

Creating NEW coaching creations 
This is my creation and It is all being
CREATED BY CLARE
Stay colourful my 40 plussers
Clare
xxx
Please reload